Within the second phase of GLOWA-Jordan River, PALAST continued the progress in working on the climate change scenarios. PALAST worked in cooperation with Potsdam Institute for climate impact research PIK using the STAR statistical downscaling model and running simulation based on ECHAM4.0 model run that used SRES A1B-Scenario for the domain chosen that extends 29o -34o and from 34o -36o Latitude and Longitude respectively on a 8km x 8km grid resolution. Two runs were done for two time slices, the first with climate observation parameters that covers the period 1958 – 1996 using data from PIK meteorological data bank in order to develop the trend needed for the simulated time slice. The second run simulates the climate trend for the time slice 2007 – 2045. The two sets of data are:
Observation climate data for the time slice 1958-1996, which include:
Simulation climate data for the time slice 2007-2045, which include:
Based on the analysis of the data obtained, the simulation indicated an increase of average temperature over the simulation period (2007 – 2045) that reaches 0.75 oC (Figure 1 below). With respect the precipitation, simulation showed expected decrease in rainfall mainly in the northern part of the domain. Figure 2 showed the observed precipitation distributed and the change during the course of 2007-2045.
​​Figure 1: annual average temperature for the observation time slice (1958-1996) and temperature changes for the scenario A1B for the time slice (2007-2045)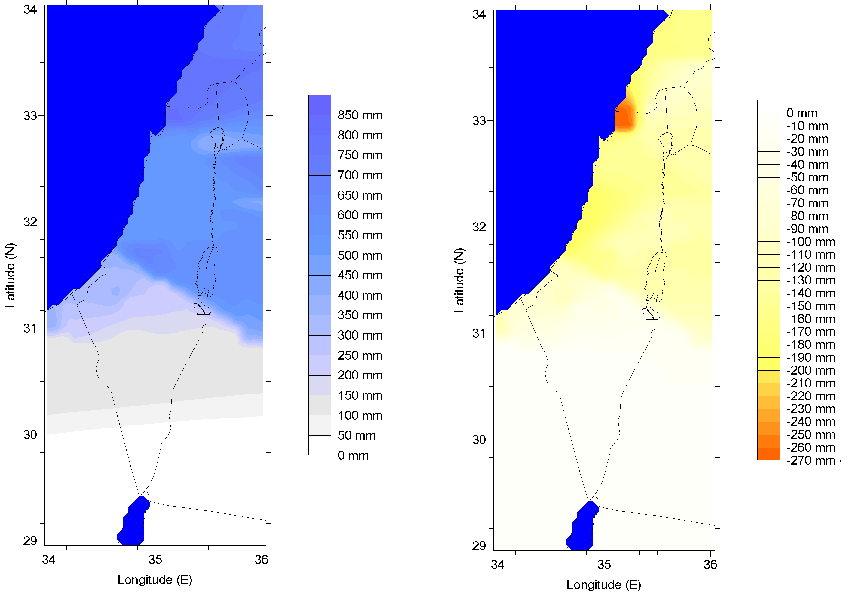 Figure 2: Annual average precipitation for the observation time slice (1958-1996) and changes in precipitation for the scenario A1B for the time slice (2007-2045)
Databases
Hydrological parameters for Palestine/West Bank (Gaza Strip under construction)