The journalist science writer for the Quebec Science magazine, Ms. Melissa Guillemette, visited Palestine (19-29 November 2019),  the Quebec Science Magazine Published feature-length coverage in its March edition Under the headline: "Science in the occupied Palestinian territories",
This report was made possible thanks to a grant from the Quebec Fund for international journalism.
The source of the Published feature-length coverage in French lagunage can be found here
Below is the translated article to English language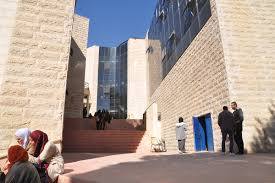 Science in the occupied Palestinian territories
BY MELISSA GUILLEMETTE
Power cuts, curfews, obstructed travel: Palestinian scientists conduct their research in trying conditions. Colleagues thousands of kilometers away in Quebec, support them as best they can.
The Al-Quds University Campus in Abu Dis, a suburb of Jerusalem, is lodged in the midst of mountains so steep that it is asked if the bus will manage to pass them. It finally emerges an oasis in the arid landscape. Here and there, green spaces where tables are arranged; students drink tea while revising and chatting.
These same sand-colored mountains can be seen from the window of Muna Ahmead's office. The panorama would be magnificent if it were not for the "security barrier" or the "wall of shame", depending on the point of view, which rises between the campus and Jerusalem. This structure was built from 2002 by Israel to protect itself from terrorist attacks, but it encroaches on the Palestinian territories. "But I don't do politics!" says Professor Ahmead several times.
The separation wall near the Al-Quds University campus. Photo: Mélissa Guillemette
Indeed, her field is science, more specifically research in mental health. She devoted herself to it with such passion that she obtained her doctorate in three years, working "night and day", in Great Britain. Today she teaches psychotherapy; she is even the first resident of the Palestinian territories to be trained in this area. The needs are immense, given the historical and political contexts. Should we remember that the Israeli-Palestinian conflict has lasted for more than 70 years?
Muna Ahmead landed in Rouyn-Noranda in the Summer of 2019, bartering her home a stone's throw from the Church of the Nativity, in Bethlehem, against the student residences of the University of Quebec in Abitibi-Témiscarningue. She worked with Professor Saïd Bergheul as part of a new "Quebec-Palestine scientific bridge". "I've been wanting to look into cybercrime for a while, because a lot of women here are receiving threats like," If you don't do this, I'll send this photo to your parents. "I wanted to start a prevention program, but I didn't know how to do it."
Especially since the researcher does not have access to scientific publications; these subscriptions cost a fortune and Al-Quds University cannot afford such expenses. These two months spent in our latitudes were fruitful: a literature review was carried out; a questionnaire was produced to assess the frequency of cyberbullying among Palestinian students and existing prevention programs were explored. "I'm collecting the data. We will publish everything when it's finished," says the talkative scientist.
The "scientific bridge" she took allows Palestinian researchers to launch a project with a Quebec colleague, thanks to a grant, during a stay at a university in the province. It was set up by the Quebec Research Funds and the Palestinian Academy of Science and Technology (PALAST) in 2017, on the sidelines of a Quebec government trade mission to Israel. Quebec chief scientist Rémi Quirion says that some time before departure, Philippe Couillard, then Premier, wanted to do something with the Palestinian university network. We contacted the president of PALAST to find out the interest - which was great. We managed to establish this bridge fairly quickly," recalls the man who signed the million-dollar four-year deal in Ramallah. The Quebec university network got involved - in two years, 64 duos were formed - and a third cohort is preparing.

The Germans have a similar program and other countries are working on it, including France and the Czech Republic. Because brains, there are many around here! There are 18 universities in the West Bank and the Gaza Strip that employ 2,200 professors. Research is growing: in 20 years, the number of scientific articles in international English-language periodicals has increased from a few dozen per year to more than 600, especially in medicine, physics, astronomy and chemistry, according to the journal Nature.
MAKING MIRACLES
A student takes us around the campus of the National An-Najah University, Nablus, in the West Bank. From the Department of Medicine to the Faculty of Information Technology and the squash hall, we forget that Palestinian universities, when they emerged in the 1970s, embodied places of resistance. Education was a way to arm yourself to gain independence. "Research was not part of the original mission; there were no facilities for that,'' says the president of the establishment, Maher Natsheh, a chemist active in this university since its opening in 1977. "Despite everything, in the Department of Chemistry, we quickly succeeded to publish a first scientific article with a simple pH meter!" He continues.
Maher Natsheh, An-Najah National University, Nablus Photo: An-Najah
Palestinian universities are now like any other in the world, eager to publish more and more articles in renowned journals in order to attract more donor and industry funds and recruit more students (local only because foreign students can only obtain three-month residence permits from the Israeli authorities).
But the financial challenges persist, in large part because of the political context. Between 2000 and 2017, the budgetary cost of the Israeli occupation to the Palestinian people was estimated at US $ 47.7 billion, according to a report by the United Nations Conference on Trade and Development. "The research stems from the personal efforts of researchers and the support of universities [which are mainly funded by tuition fees]," says Natsheh. With the means we have, we do miracles. When foreign delegations visit us they do not return."
Manar Qamhieh, professor at An-Najah National University Photo: Mélissa Guillemette
Manar Qamhieh, a young professor of computer engineering at An-Najah National University, says it is not the equipment that is lacking: her computer is enough for her. If she submitted her candidacy to the scientific bridge, it is to offer herself the luxury of time at the University of Quebec in Outaouais from 2020. "I need such a program to focus on my work, because even summer is busy here, she says in French, reflecting her six years spent in France for her master's and doctorate degrees. During the year, I teach 12 to 20 hours a week!" In Quebec, the average teacher rather spends 6 hours in class.
With her Gatineau researcher partner, Omar Abdul Wahab, she will focus on "virtual machines", a division of tasks technique in very real computer systems. She has expertise in adding time constraints to the execution of tasks, while her colleague is familiar with cloud computing. They will check if it is possible to schedule the tasks of cloud servers while inserting time constraints. Everyone will benefit from each other's knowledge.
PUTTING PALESTINE ON THE MAP
2018 was a "good" year for Palestinian universities: they were able to share the equivalent of $2.5-million Canadian dollars paid by the government. "It's nothing ...", observes the Palestinian Authority's new Education Minister, Marwan Awartani, a mathematician.
Mr. Awartani is also president of PALAST, it was he who established the program with Quebec. We met him at the end of November in the middle of a "day of anger", triggered when Washington declared that it no longer considered the Jewish settlements to be illegal (around 600,000 Israelis live in these cities built in the West Bank and in East Jerusalem and that violates the international law, according to the Geneva Conventions of 1949). In Al-Manara Square, near his office, hundreds of people were demonstrating, some burning images of Donald Trump and Israeli flags. The universities were closed for the occasion. "It's a turbulent environment," said Marwan Awartani. Every day there is something new: a road is closed, a curfew is instituted ... In science, we need free space in our heads to think." 
besides, the import of equipment and chemicals for laboratories is controlled at the Israeli and Egyptian borders "An experiment can collapse if a single piece is missing," he said.
Through its various partnerships around the world, PALAST nevertheless has an ambitious objective "to put Palestine on the map in terms of science and technology", can be read on its website. "We lost our territory in 1948 and we were made refugees more than once," says Marwan Awartani. We have no oil, no natural resources; for Palestine to become a vibrant economy, we have no choice but to rely on knowledge. «
TIRESOME JOURNEY
This morning, at the Arab American University in Jenin, in the northern West Bank, Faisal Sabah is giving a lesson on the colors that adorn maps. He guides his students in understanding the contrasting legends displayed by the projector.
Once the class is over, he explains that his research work is less about maps than housing policies. "In Palestine, space is very limited: several cities are found near Israeli settlements, roads to these settlements, the wall. And at the same time, Palestinian society is changing. Before, we lived with our families, while now everyone wants their house. This creates high demand and the private sector is now building high-rise projects, which was not done 10 years ago." He will team up with Anne Latendresse, from the Université du Québec Quebec à Montreal (UQAM), starting in March to explore different approaches to housing.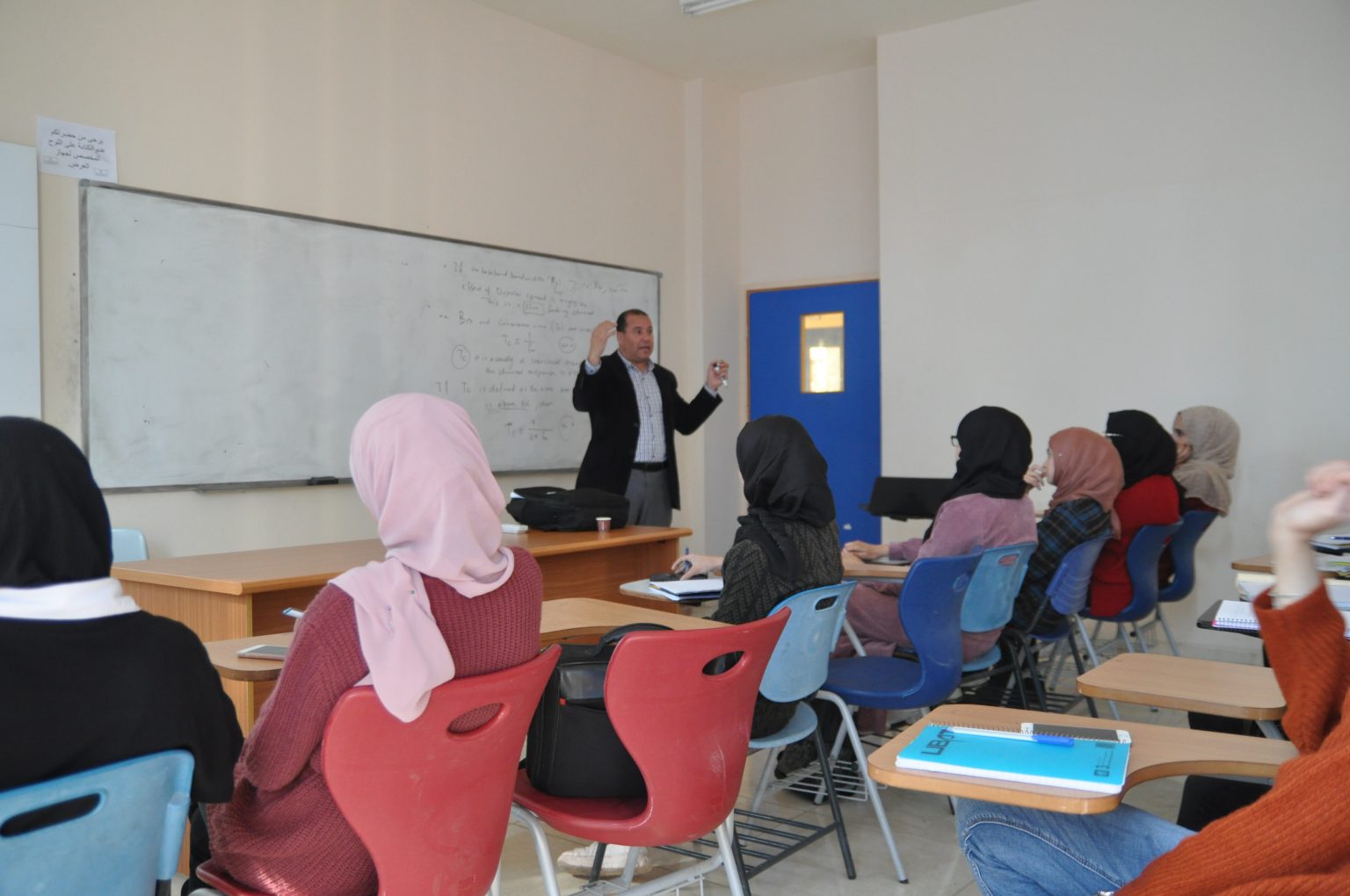 Professor Faisal Sabah's class Photo: Mélissa Guillemette
He deplores the fact that it is "easier" for him to go to Montreal than to visit his colleagues in the Gaza Strip. Travel in the West Bank is already difficult due to Israeli checkpoints (a researcher told us of his stress of spending four to six hours a day on the road to go back and forth between Abu Dis and Ramallah, separated by a twenty kilometers), but it is even more difficult to reach the other Palestinian territory. "Two years ago, the Islamic University of Gaza invited me to give a presentation, quotes as an example Mr. Sabah. I asked for permission [from the Israeli authorities]. I didn't have it, but I wish I could go because housing policies concerns everyone in Palestine."
Unbearable. This is the word used by Quebec researcher Dyala Hamzah to describe the situation experienced by her counterpart in the Gaza Strip, Yousef Omar, of Al-Aqsa University, who is trying to do a research stay with her. Both are historians: he has researched the Ottoman Empire and is dedicated to the modern Arab world. "His work stops where mine begins" sums up the professor from the University of Montreal who met at an evening highlighting the visit of a PALAST delegation to Quebec last October. Their joint project concerns Canada's position vis-à-vis the Palestinian refugees in the years following the creation of the State of Israel.
Mr. Omar was to spend the summer of 2019 by his side. To do this, he had to leave the Gaza Strip to undergo biometric tests at a Canadian embassy. This thin territory on the shores of the Mediterranean Sea has been the subject of a blockade since it passed, in 2007, under the control of Hamas, a party considered as terrorist by certain states, including Canada.
As Yousef Omar never managed, in 20 years, to obtain permission to leave Gaza through the Israeli border post at Erez, he turned to the Rafah post, a crossing point for Egypt. He made three attempts. "In the three cases, the Egyptian authorities refused my request without further explanation," he said by email, since it was difficult to speak to him by videoconference due to the daily power cuts. In addition, I tried several times to get out of Gaza using smugglers. They are asking for $3,600 U.S. dollars, a huge sum" which represents half of the scholarship to cover his transportation, accommodation and meals costs under the program. "I refused."
He tried to convince Canada to let him undertake the biometric procedure at a European diplomatic mission in Gaza, without success. "I'm not giving up. I need to go to Canada to carry out my project, because I have to consult documents that are in the archives in Ottawa and in other libraries."
Yousef Omar is not alone: four other Gazans have not been able to go to Quebec since 2017. A theme familiar to the organization Gisha, of Tel Aviv, which campaigns for the freedom of movement of the Palestinians. "To apply for a travel permit to an embassy, applicants must demonstrate that they have an appointment at that embassy," said spokeswoman Miriam Marmuur. "However, since Israel's review of files is long, some people miss their appointment, which means that they must obtain a new appointment and submit a new permit application to Israel."
Some residents of the Gaza Strip nevertheless managed to take off. This is the case of Hussam Musleh, whom we met at the Institut National de la Recherche Scientifique (INRS), in Varennes, last fall. The researcher told us about his odyssey to Canada. He took advantage of a health trip to Cairo, Egypt, to go to the Canadian Embassy, after crossing the Sinai by bus. He stayed in the Egyptian capital for two months, awaiting a positive response from the embassy.
Physicist Hussam Musleh at the National Institute for Scientific Research in Varennes Photo: Hussam Musleh
Hussam Musleh was not out of the woods. "I bought a plane ticket, but arrived at the airport, I couldn't board; my flight was going through the United States." This country no longer allows transits to nationals of certain countries who do not have an American visa. "I almost gave up." Especially that his wife would have needed him, when their fifth child, Canan (for "Canada"!), was only a few months old. A second flight finally brought him to safety: an apartment and a bicycle were waiting for him not too far from his adoption laboratory.
His efforts have paid off. He spent a little over a month in Federico Rosei's laboratory working on materials for solar panels. The trip was short, but Hussam Musleh will continue to use the group's equipment to test samples, which he will send by post.
We wanted to visit the laboratory where Mr. Musleh works, at al-Azhar University, but the Government Press Office of Israel did not give us the press card necessary to enter the Gaza Strip; Quebec Science does not meet the criteria to obtain it (and it would also have been necessary to obtain Hamas' permission once arrived in the region). "If you can't come, imagine how stuck we are," said Mr. Musleh, exasperated, on the phone.
SOLIDARITY OF RESEARCHERS
The confinement of Hussam Musleh contrasts with the life of his colleague from the INRS Federico Rosei: difficult to find a more globetrotter! He multiplies meetings and conferences around the world. In addition, receiving students and researchers from developing countries is practically the trademark of his laboratory. "These countries need energy to develop," says Rosei, caught between two trips. "The energy technologies we work on require less energy to manufacture and are low cost. Their effectiveness is less, but it is compensated by the fact that there is a lot of sun in these countries."
For him, researchers must be united. "Scientists from countries in development are penalized on all fronts. They do not have many facilities and have little money for research. They are also very isolated because they do not receive visits from foreign researchers. Working together is a matter of social justice."
His speech echoed that of the international organization Scientists for Palestine, which has been promoting exchanges between academics since 2017. "International isolation kills science," says Mario Martone, co-founder of the organization and postdoctoral researcher in particle physics at the University of Texas at Austin." The idea is really not to arrive with our big Western clogs. We organize meetings in Palestine with researchers from all over the world and the repercussions are considerable. It's top level - we didn't want to offer "third world" style activities."
Last stop: the office of Rasmi Abu Helu, an immunologist based at Al-Quds University. He too has a view of the separation wall. He points out that researchers in developing countries must generally agree to part with their families to travel abroad, something that Canadian researchers do not have to endure.
Immunologist Rasmi Abu Helu, professor at Al-Quds University Photo: Mélissa Guillemette
Selected by the Quebec-Palestine program, he wanted to leave with his four daughters and his wife in the summer of 2018; he was to perform preclinical tests for a drug against a type of vaginal infection at Laval University. "I wanted to kill two birds with one stone: make a two-month research trip and allow my family to have a great vacation."
But their Canadian visa applications were all denied ... except for the professor's. Visitors from developing countries are sometimes seen as potential asylum seekers, which is denounced by several players in the science and technology community, including the artificial intelligence specialist at the Université de Montréal, Yoshua Bengio. When the family of visitors stays behind, the "risks" are considered to be less. A Gaza researcher who was not granted a visa wanted to travel with her two-year-old child.
Rasmi Abu Helu continues: "With my wife and daughters by my side, I would have been more relaxed doing my work; it would have been more satisfying for me and more enjoyable for my family." Disappointed, he first canceled the project. Then, resigned, he resubmitted his application to the program in the hope of visiting Quebec in 2020. "I am a well-established teacher, I have a long history of travel, often accompanied. Honestly, I have no intention of immigrating to Canada! I had several possibilities of working abroad, but I chose Palestine."