Dr. Rawan Mlih
Dr. Rawan Mlih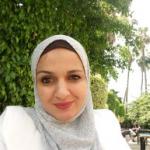 Dr. Rawan Mlih
PGSB Returner Fellows
IBG-3 institute, Research Center Juelich, Aachen University, RWTH & Palestine Polytechnic University PPU
Field of research: Environmental application of iron oxides nanoparticles.
Area of specialization: Nanoparticles, colloids, heavy metals, constructed wetlands, light expanded clay aggregates.
Research cluster affiliation: not applicable
German affiliation(s): IBG-3 institute, Research Center Juelich, Aachen University, RWTH.
Host Palestinian university: faculty of applied sciences, Palestine Polytechnic University PPU.
Research project title(s): The Role Of Poly(Acrylic Acid-Co-Maleic Acid) (PAM) Coated Magnetite Nanoparticles In Removing Heavy Metals Retained in Undisturbed Soil or Porous Media
Science case and possible benefit: Heavy metals pollution is one of the persistent environmental issues in many areas in Palestine. Through this research, novel nanoparticles will be applied as adsorbent for heavy metals in water and soil systems. Additionally, these nanoparticles will be tested for their transport and retention in undisturbed soil to elucidate their fate and interaction with the pollutants. Several physicochemical parameters that affect the removal process will be tested in the lab using model and real systems.
The possible benefits of the research objectives are:
Test the applicability of novel iron oxides nanoparticles for environmental application.
Publications and present the research findings in international conferences and boost international collaboration.
Collaboration among Palestinian universities through joint research activities. 
Enable graduate students from several Palestinian universities to work on related research topics in Germany. 
Supervision of graduate master theses from multiple universities in Palestine.
Teach related courses to the research at PPU or other university at the time of the postdoctoral studies.
Short summary of main expected outputs/ results: Besides the resolution of the research hypotheses, the research will enable hosting graduate students from Palestine to do their research at IBG-3 institute in research center Juelich. The students will learn how to utilize research related technique and tools and will be introduced to several advanced techniques for soil and water analyses and/or nanoparticles characterization. e.g., ICP-MS, DLS, zeta potential, SEM, TEM, XRD, etc. The students will acquire soft skills in scientific writing, data analysis, plotting and modelling. Additionally, new knowledge transfer through teaching activities that brings impact and improvements to the higher education system in Palestine. 
Expected future impact, including directly in the Palestinian (research) community: Provide learning opportunities for undergraduate students in Palestine through establishment of a research unit for wastewater remediation for academic purposes and competitive research outputs.
Your future plans: Teaching and research in collaboration with Palestinian universities.
Future vision for the PGSB/research in Palestine or general: Sustaining the research activities in Palestine through research infrastructures and tailored researchers. Keep on the international collaboration to ensure high quality knowledge transfer.
Lectures you have given/are giving/will give: Future courses: Environmental science related courses, PPU.
Recently attended conferences: Participation in Aachner Tagung für Wasser Technologie conference
Your publications:
Mlih, R., Liang Y, Zhang M, Tombácz E, Bol R, Klumpp (2022). Transport and Retention of Poly(Acrylic Acid-co-Maleic Acid) Coated Magnetite Nanoparticles in Porous Media: Effect of Input Concentration, Ionic Strength and Grain Size. Nanomaterials 12(9):1536. 
Brahim, N., Ibrahim, H., Mlih, R., Bouajila, A., Karbout, N., & Bol, R. (2022). Soil OC and N Stocks in the Saline Soil of Tunisian Gataaya Oasis Eight Years after Application of Manure and Compost. Land, 11(3), 442.
N Karbout, Mlih, R., D Latifa, R Bol, M Moussa, N Brahim, H Bousnina. (2021).
Farm manure and bentonite clay amendments enhance the date palm morphology and yield. Arabian Journal of Geosciences 14 (9), 1-8.
Merabtene, M. D., Faraoun, F., Mlih, R., Djellouli, R., Latreche, A., & Bol, R. (2021). Forest Soil Organic Carbon Stocks of Tessala Mount in North-West Algeria-Preliminary Estimates. Frontiers in Environmental Science, 277.
Karbout, N., Brahim, N., Mlih, R., Moussa, M., Bousnina, H., Weihermuller, L., & Bol, R. (2021). Bentonite clay combined with organic amendments to enhance soil fertility in oasis agrosystem. Arabian Journal of Geosciences, 14(6), 1-10.
Karbout, N., Mlih, R., Latifa, D., Bol, R., Moussa, M., Brahim, N., & Bousnina, H. (2021). Farm manure and bentonite clay amendments enhance the date palm morphology and yield. Arabian Journal of Geosciences, 14(9), 1-8.
Mlih, R., Bydalek, F., Klumpp, E., Yaghi, N., Bol, R., & Wenk, J. (2020). Light-expanded clay aggregate (LECA) as a substrate in constructed wetlands–A review. Ecological engineering, 148, 105783.
Mlih, R., Gocke, MI., Bol R., Berns, AE., Fuhrmann, I., Brahim, N. (2019) Soil organic matter composition in coastal and continental date palm systems - insights from Tunisian oases. Pedosphere 29:444–456.
Karbout, N., Bol, R., Mlih, R., Moussa, M., Lamoro, H., & Bousnina, H. (2019, October). Effect of Manure and Differing Sand Amendments on the Soil Chemical Properties of the Oases in Tunisia. In Euro-Mediterranean Conference for Environmental Integration (pp. 1269-1274). Springer, Cham.
Mlih, R., Bol, R., Amelung, W., & Brahim, N. (2016). Soil organic matter amendments in date palm groves of the Middle Eastern and North African region: a mini-review. Journal of arid Land, 8(1), 77-92.

link for researchgate profile: https://www.researchgate.net/profile/Rawan-Mlih